Tucked away from the main street of Kalakaua Ave is Roy's Waikiki, a high-end restaurant serving Hawaiian and Japanese fusion cuisine. Best known for their meat, seafood and sushi dishes, Roy's continues to amaze guests by combining local ingredients with culinary perfection. Specials of the day are rarely a disappointment. Some of their signature dishes are seasonal, making the menu exciting to look forward to as well.
The daily menu features a selection of "Roy's Classics", which are noted with a "y" symbol. Some of my favorites are……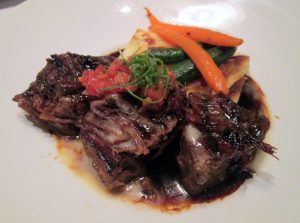 Slow braised Honey Mustard Grilled Beef Short Ribs with Nalo Herb Lyonnaise Potatoes, Lomi Tomatoes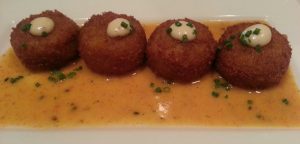 Crab Cakes with Spicy Sesame Butter sauce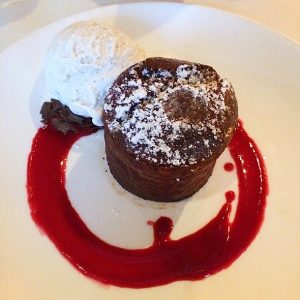 Warm Chocolate Soufflé
To stay ahead of the crowd, book a table on the Open Table app or view a sample menu online and make a reservation. Last seating is at 9:30 pm and they close when the last group leaves. They may be really busy, so feel free to venture out of Waikiki to one of their other two locations on Oahu.
Address: 226 Lewers St.
Hours: 11:00 am – 10:00 pm
Parking: Valet at Embassy Suites Waikiki, located on Beach Walk. With validation is $6.00 for 4 hours.