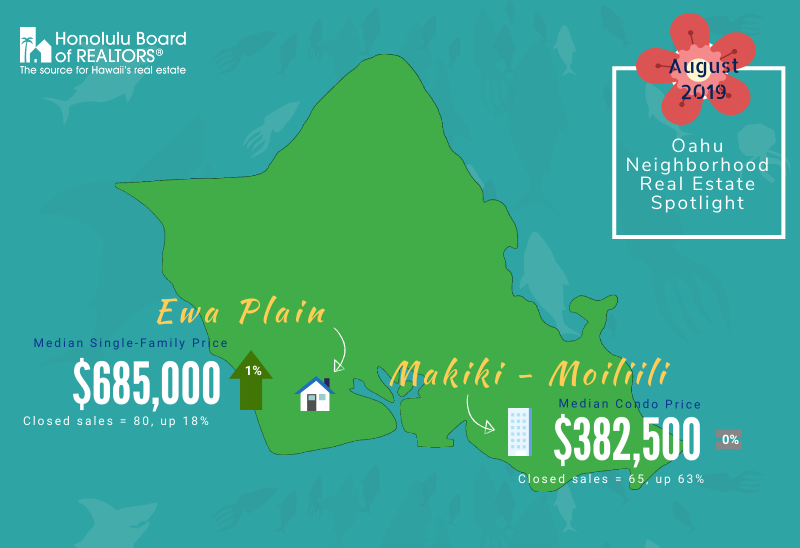 Oahu Housing Sales and Median Prices Hold Steady in August
August housing sales volume on Oahu was relatively flat over last year according to resales figures released today by the Honolulu Board of REALTORS®. The analysis conducted by the Board using data collected from its computerized Multiple Listing Service (MLS) system show the following statistics:
Single-Family Home Resales
Number of Sales

Median Sales Price

August 2019

360

1.7%

$790,000

-2.5%

August 2018

354

$810,000
Condominium Resales
Number of Sales

Median Sales Price

August 2019

512

-1.7%

$419,500

-1.8%

August 2018

521

$427,000
During August, sales of 360 single-family homes and 512 condominiums closed, a 1.7 percent increase and 1.7 percent decrease, respectively, from the same month last year. This brings total single-family home sales on Oahu to 2,427 for the first eight months of 2019, down just 0.7 percent over the same time period one year ago, while total condominium sales were 3,608, a 6.4 percent decrease. The median price for single-family homes declined marginally by 2.5 percent to $790,000, while the condominium median price decreased by 1.8 percent to $419,500. The year-to-date median prices paid for Oahu properties in the first eight months of this year were $785,000 for single-family homes and $425,000 for condos, unchanged from the 2018 prices for the same time period.
"Overall, August was a quite stable month for Oahu's residential real estate market compared to last year," said Jenny L. Brady, President of the Honolulu Board of REALTORS®. "Sales were at about the same level as 2018 and prices have been steady as well, with the majority of single-family homes and condominiums selling within a narrow price range. We continued to see double digit increases in active listings for both single-family homes and condominiums throughout this year. While properties have remained on the market a little longer, the median days on market is still under a month."