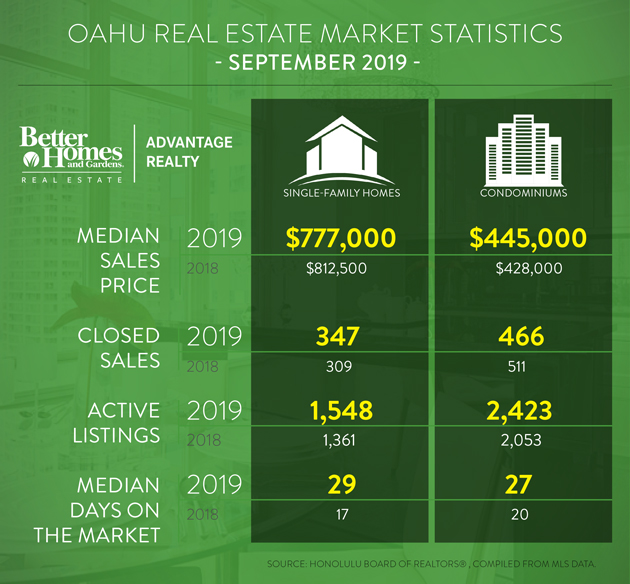 Here's the Best DANG realtor for you! September market summary update:
Oahu's real estate market is in full transition and we slowly moving completely to a Buyer's market.

(not yet)

Months of remaining inventory (property) continues to slowly increase and in the higher price points we have already reached equilibrium.

Compared to the September 2018, number of single-family homes has increased by 12.3%, while Condos have slightly decreased by 8.8%.
Seller Summary:
Multiple offer situations are becoming rare and Sellers will need to consider the first and possibly only offer seriously.

There is no such thing as a perfect property and Buyers will ask Sellers for repairs and or concessions/credits.

Be ready to compete and stay ahead of your neighbor with pricing.

(adjusting price is an art and timing is everything).

1031 Exchanges are now becoming easier to complete as the market slows. (investment property only)

It may take 5-7 years before prices return to where they are at today. (don't wait if you are older or have plans for your $$)
Buyer Summary:
There are a lot of active Buyers in the market and competition is still fierce with popular or highly sought-after property.

Historic low interest rates will help Buyers who don't have large down payments stay in the market.
Now is the time to upgrade as there is more inventory to look at and the market is slow enough to look without rushing.
All cash Buyers who are not in a rush can afford to wait for the market to flatten or dip further.

Buyers who are interested in "affordable income" new projects should keep looking if they were not able to secure a spot.

(you may be priced out of the market completely if interest rates increase)
There is no such thing as a perfect property and Buyer's need to focus on the bigger picture.