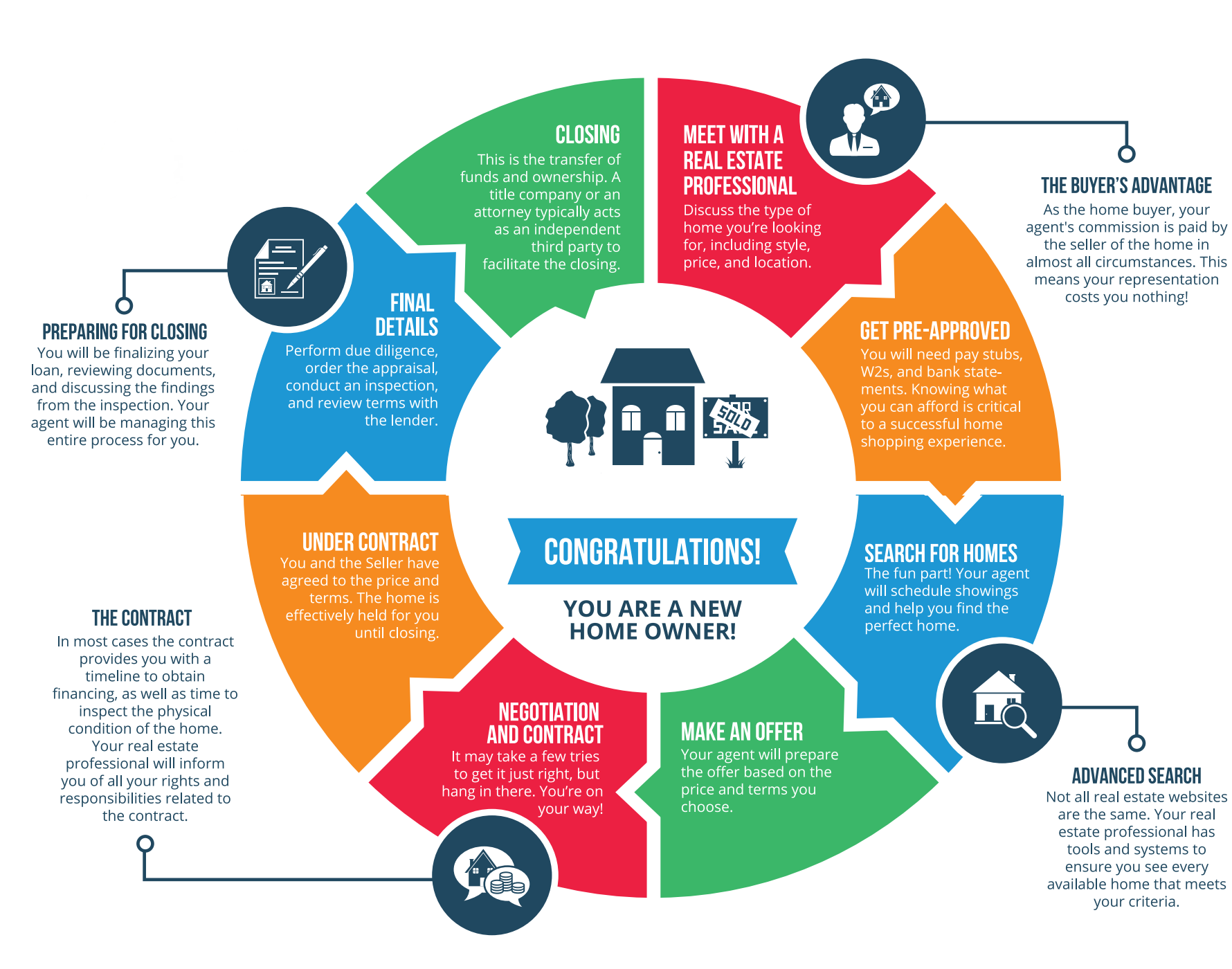 Step No. 1: Choose an agent
What should you look for when choosing a Realtor? Seek out a Realtor who communicates well, has your best interest, and who is readily available to service your needs. This will likely be the largest financial decision of your life, so doing a little research will be well worth the effort. Once you find that person, commit to him or her through the whole process unless you are dissatisfied. Be honest and upfront if you are not happy.
Step No. 2: Buyer Consultation
Sit down with your agent to do a Buyer's Consultation. During this exercise the agent should be educating you about the buying process, the current housing market, and listening carefully to your goals. A great realtor should also be asking you pointed questions to help you think of possibilities and/or help sharpen your focus.
Step No. 3: Select a lender
Once you've chosen a real estate professional you trust to be your advocate, ask him or her to recommend lenders. Actively selling realtors who service a good number of buyers will have a list of lenders they regularly work with and trust. Low interest rates and fees are important; however, choosing a lender that will be able to close the loan is very crucial. You wouldn't want to put in an offer on your dream property only to find out that the lender isn't able to close your deal.
Step No. 4: Apply for a pre-approval
Completing this part of the process in a timely manner will ensure that you are ready to submit an offer. This will help you determine exactly what you can afford and what the monthly payments will be. In a competitive home-buying market, having a pre-approval letter in hand will strengthen your offer and show the seller you are serious.
Step No. 5: Searching for property
Now comes the fun part of the process! Searching for homes that meet your parameters or wish list will be a team activity. Your agent and you will need to be on alert for new listings as there is a limited inventory on Oahu. Communication between you and your agent will be very important as you don't want to miss out on a good buy.
When you begin touring properties that are on your list, make sure to take notes on paper or your phone. Provide that feedback to your agent as this will help to narrow down your selection.
Step No. 6: Make an offer
Your real estate agent should first go over in detail all the paperwork and "sold" comparable properties in the neighborhood or building. After your offer is submitted to the seller, the possible outcomes will be either be an acceptance, a counter offer, or a rejection. Typically, you can expect a response from the seller's side within 24–48 hours from the time your agent submits the offer.
Step No. 7: Completing the mortgage
Assuming you are not purchasing the property in cash, then there is a process to getting your loan approved by the closing date. In order to expedite this process, you should be very attentive to turn in all paperwork that the lender requires. At the same time, your agent should also follow up with the lender if he or she does not communicate about the status of the process or respond to any client inquiries.
Step No. 8: Do your due diligence
A great real estate professional will assist you with all the paperwork and logistics of the buying process. It is ultimately your responsibility to review everything, ask questions, and take a proactive stance in participating. There will be at least three times during the sale where you are encouraged to attend inspections.
Step No. 9: Closing
Once all of the above steps are completed, you'll be on your way to signing closing documents at escrow. This is when the deed, loan documents, and remaining escrow paperwork will be completed, which is usually one week prior to closing. At this time, you may turn in your remaining cash down payment and/or receive the electronic wiring instructions.
Step No. 10: Receiving keys
Yay! Congratulations you are now a homeowner. Sale recordation on Oahu usually takes place on weekdays at 8:01 a.m., so your agent should have the keys ready for the property shortly after.
Client reviews of the "Best Dang Agent"